The impact of Artificial intelligence (AI) in everyday life is understated and might reach far than science fiction has suggested.
Simple AI even filters your incoming calls, emails and they power your virtual assistance used on daily basis in your mobile phones.
An avalanche of information produced by the modern technologies in STEM (science, technology, engineering, and mathematics) deluges scientists to seek the help of AI. This up-to-date technology is driving computer systems to perform tasks that usually require human intelligence, in terms of visual perception, decision-making and speech recognition.
Working in STEM demands critical thinking and creativity to develop innovative solutions to problems, which sets the stage for the downstream technical outputs. AI algorithms have been helping transform the ideas into reality with eminent accuracy.
We are currently witnessing the remarkable shift of innovation in multiple platforms including research laboratories, digital platforms, and startups. It has quickly progressed with the availability of data infrastructure and supercomputing power.
A symbiotic ecosystem has been created between universities, startups, tech companies, and venture capitalists to drive technological innovation. DeepMind, Google Brain, OpenAI are a few of those advances with state-of-art machine learning technologies that are capable of solving harder and complex problems.
How AI is influencing science is an enigma.
Scientists are often intrigued by the infinite possibilities of applications in diverse areas which bridge the possibility of improving interdisciplinary research in STEM. One such great application is digital health, where the treatment path of each patient can be monitored, diagnosed with a minimal test which would help to develop a personalized medicine, via the precision medicine approach.
Precision medicine often involves the integration of the omics data such as genomics, proteomics, and metabolomics to analyse the cause of an individual patient's diseases at the molecular level and targeted treatments are used to assess the recovery process.
Similarly, drug screening processes have been fastened because of the AI applications saving countless lives. A team of scientists from the UK has recently built robots "Adam" and "Eve" which can perform experiments without human intervention and test new drugs and analyse them respectively.
One such advancement was triclosan, a common ingredient in toothpaste which was identified by this advanced robot, "Eve", as a potential treatment for drug-resistant malaria.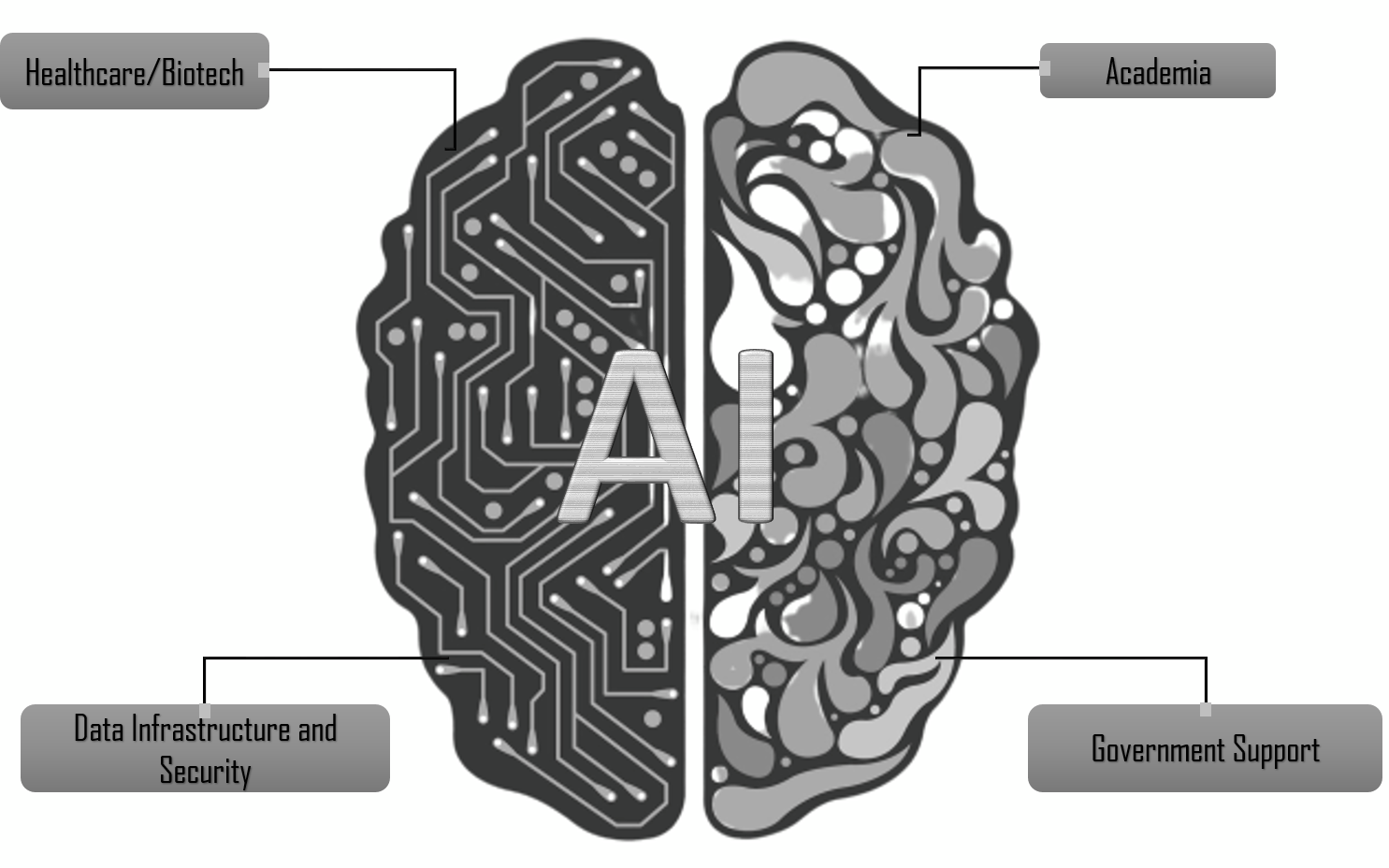 The reach of AI
Beyond reshaping healthcare, AI is creating breakthroughs in scientific discovery, economics, cybersecurity, logistics and strongly impacting many different fields.
Considering the benefit that AI has brought to our lives, efforts have been made to democratize this technology, so that more and more information is accessible and useful. Because AI is about learning complex representations from data, the more data generated, the more robust the analysis becomes.
Therefore, making data resources more readily available to everyone would benefit the field, and systematically favor the notion of open science. Artificial Intelligence is continuing to transform the world but also challenges our fears and hopes as this technological innovation shapes our future.
Fears and hopes of AI
Fears:
Reduction in jobs due to automation

Superintelligence

AI Apocalypse
Hopes:
Limitless possibilities for all humanity

AI-Human partnership

Enhance innovation and decision making
........
Authors:
Michelle Almeida da Paz
Taraka Ramji Moturu
Edited by:
Markus Dettenhofer and Somsuvro Basu
Further reading on this topic and Resources:
Roland Berger. "AI strategy for European startups".

Joining the dots – A map of Europe's AI ecosystem.

Interview at GS (2018). Eric Schmidt: "The Artificial Intelligence Revolution".

Nic Fleming. How artificial intelligence is changing drug discovery.

Sweitze Roffel, Ian Evans. "Hopes and fears of AI: the experts view.

Kaggle: https://www.kaggle.com/

GoogleAI: https://ai.google/

Data science learning: https://towardsdatascience.com/
Publication date: 01.07.2019