2020 is not the most comfortable year for most of us.
The pandemic pushed us to stay at home in quarantine, without seeing friends, family and even sun for long periods. The negative influence of COVID-19 is visible everywhere, not only in the news.

But not everything is so dark.

The pandemic taught us how lucky we are, having the internet. It made us more flexible, exchanging personal meeting, seminars, and even whole conferences for Zoom sessions. Every fully-online business started booming – education as one of them. And thinking of education, I mean MOOCs.
Living under a rock
In the early years of my PhD, I was living in an academic bubble.
I did not know much about opportunities for learning something new anywhere outside of university or maybe paid language schools. I was focused on my science, without thinking of anything besides.
Until the first EuroSTEMPeers conference at CEITEC in 2018.
One of the speakers was Dr Prateek Mahalwar – a startup founder and entrepreneur. He told us that he would probably never leave academia if he had not taken a lot of MOOCs in business, project management and so on. He said, "I use Coursera the most – you can enrol for the course and with a small fee get a certificate of completion. Alternatively, you can choose the freely available audit form of learning and learn at liberty ".
I sat there thinking – ok, MOOCs? Am I missing something? What does it even mean? And why did I find it so late?
MOOCs
MOOCs stands for massive open online courses, including video lessons, reading materials, assessments, and discussion forums.
Massive - enrolments are unlimited and can accommodate up to thousands of students

Open - there is no admission process and no prerequisites to enrol

Online - they are available online

Course - they are here to teach you some topic. [1]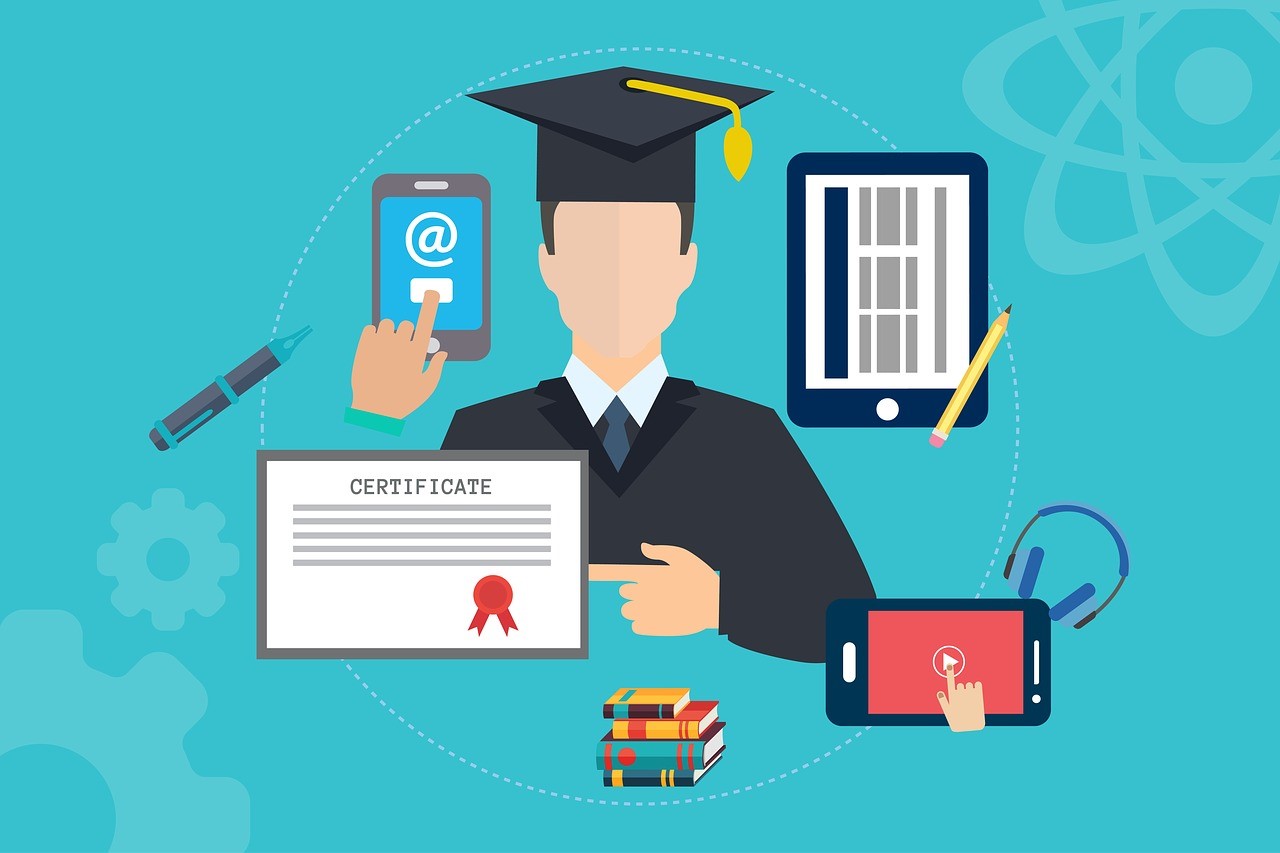 (Photo courtesy pixabay.com)
In short, MOOCs are free courses for large audiences taking place entirely online. They give the option of studying a subject in depth without the need of taking traditional university courses.

They do not require previous qualifications and are open to anyone, regardless of their educational background. The enrolment sometimes is entirely free, or you need to pay to get access to a full course.

A few years back, you could take a course for free just without receiving a completion certificate. Now, most of the MOOCs providers have a different payment model – a monthly subscription or a separate fee for every course.
MOOCs often have a start and finish date, run a few times in a year and last for several weeks. But lately, more often, the date of enrolment and the completion-time of the course is up to the participant. MOOCs use many types of online media and interactive tools such as video lectures, articles, discussions, assignments, and social networking.

While taking a MOOC, you will usually get support from the community of other learners, and sometimes educators as well. Your progress will be monitored by the completion of the assignments following every chapter of the course. [2],[3]
By whom and when were MOOCs started?
First MOOCs were developed by universities. The initial MOOC-makers were Stanford, MIT, and Harvard. Other courses were made by companies, such as Microsoft or Google.
The first MOOC ever was called "Connectivism and Connective Knowledge/2008", and it ran like a credit course for the University of Manitoba. It had 25 students who had paid fees and nearly 2.200 free learners.[4] But the real boom started a few years later.
In 2011 an article appeared in NYTimes[5] introducing the new course to be taught online by Professors Sebastian Thrun and Peter Norvig of Stanford University, called "Introduction to Artificial Intelligence".

They expected 58.000 participants. But the first run of it in 2012 had approximately 1.600.000 students participating from 190 countries. After the success, Thrun and Norvig started Udacity, a business model for online knowledge sharing, one of the biggest MOOC platforms to date.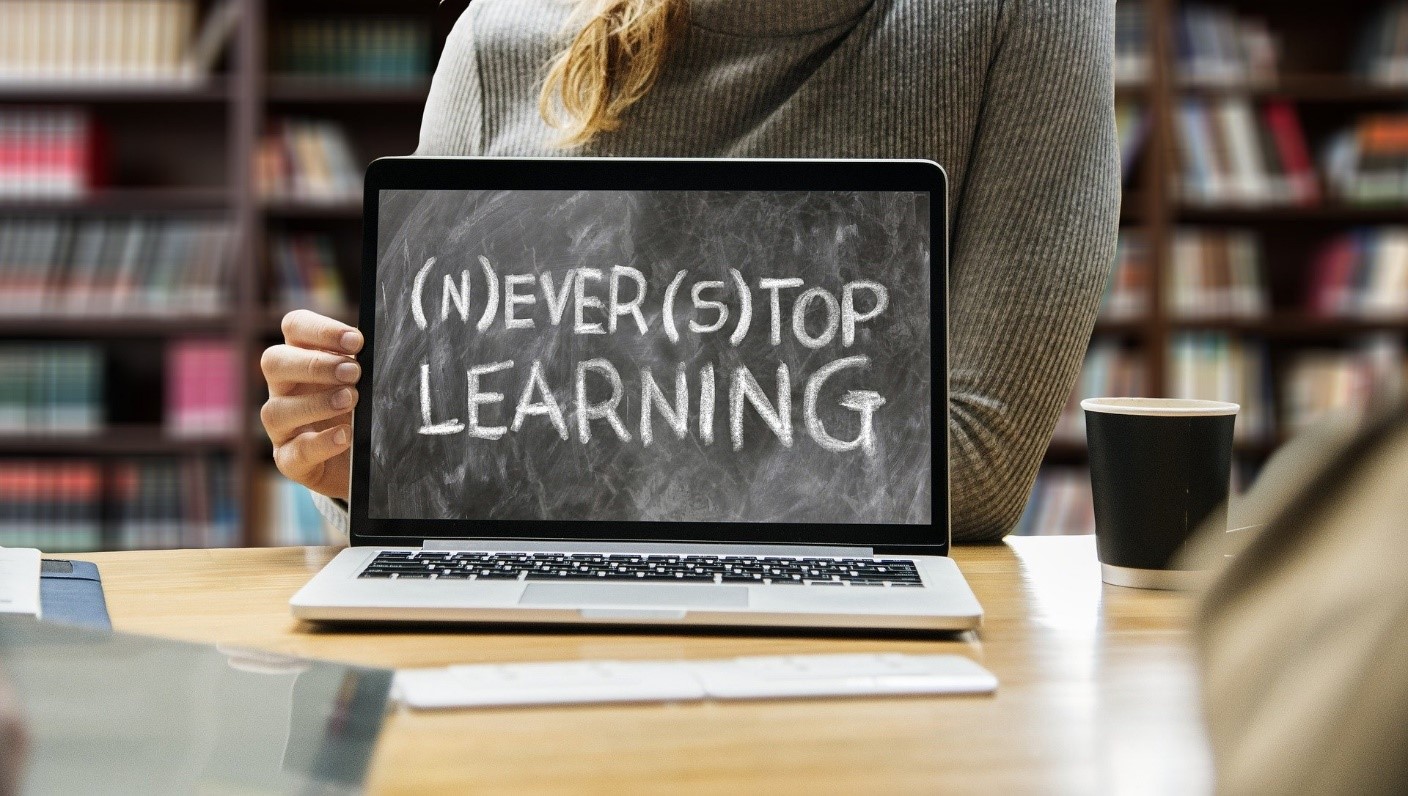 (Photo courtesy pixabay.com)
MOOCs fleet
Udacity is not the only place you can take MOOCs. Coursera, edX, FutureLearn, Udemy, Swayam are just some of them. And there are many more that differ in learning style and topic types. [6], [7]
One of my personal favourites is Skillshare – a subscription type of a platform. It differs a bit from the rest as it mostly offers courses focusing on creativity such as art, graphics, photography, or website building. It is also sponsoring an endless amount of YouTube creators.
Hiring actors like Matt Damon as a teacher was just a crazy idea at the early stages of MOOCs' existence [8], but now it is a reality.

Here comes the Masterclass platform.

Their instructors include Christina Aguilera, Serena Williams, James Patterson, and more.

I learnt about its existence by a Facebook ad promoting a course taught by Chris Hadfield – a Canadian astronaut who became a celebrity by performing 'Space Oddity' by David Bowie in space. It seems like much of these free online courses are becoming significant media productions.
The MOOCs variety
The possibilities are endless. To not to get lost in this course ocean, there is Class Central - a search engine just for MOOCs [9].

You can search your topics of interest, find descriptions and reviews before you decide which courses to try.

Class Central provides an up-to-date list of possible micro-credentials too. Class Central counted MOOCs by the number, and they are growing every year. In 2019, 110 million students were enrolled in MOOCs. There were more than 13 thousand available courses, 820 micro-credentials to gain and 50 MOOC-based degrees. More than 900 universities are providing courses.

The no-1 popular platform is Coursera, followed by EdX and Udacity. The most popular subjects are technology, business, and social sciences. [10]
Every year Class Central prepares a list of the most popular free MOOCs as well. In 2019, the crown was clinched by "An Introduction to Interactive Programming in Python (Part 1)" delivered by the Rice University.[11]

There is also a list of 50 most popular MOOCs of all-time where the winner is the course "Learning How to Learn: Powerful mental tools to help you master tough subjects" by UC San Diego. [12]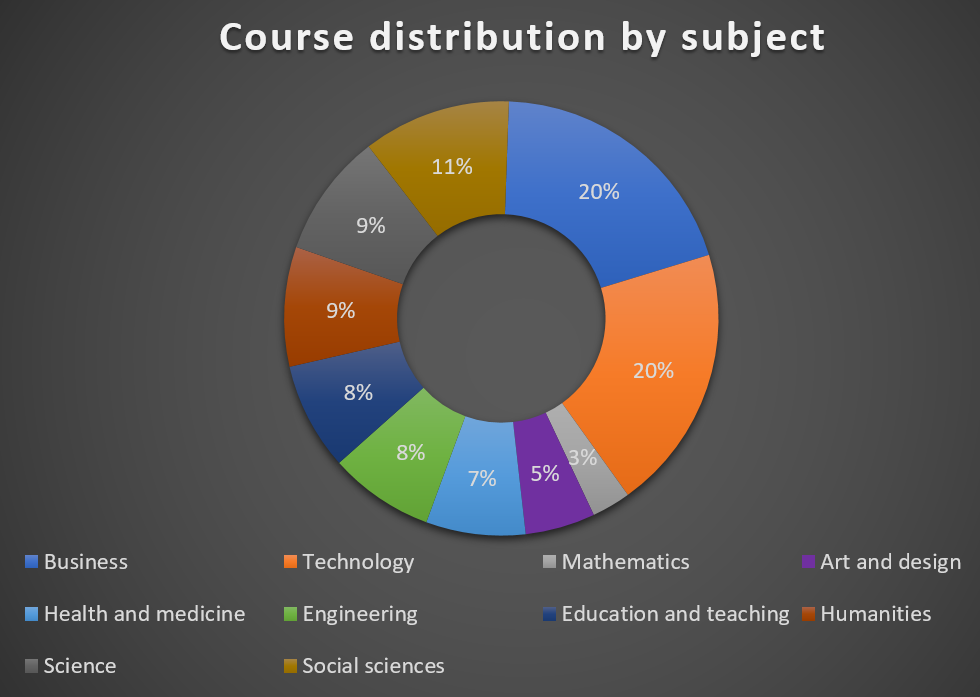 (Adapted from Class Central, By the numbers: MOOCs in 2019)
MOOCs' outcome
If you finish a MOOC and complete all tasks, you may get a certificate of completion for a fee. Some courses allow you even to earn academic credits from specific institutions. But this credit would not be recognized by all institutions, unfortunately.
Besides certificates, there are also micro-credentials. These are a series of related MOOCs that allow you to gain a deeper understanding of a specific subject and you end up having a certificate of:
MicroMasters — such as edX's Principles of Manufacturing from Massachusetts Institute of Technology

Specialization — such as Coursera's Python for Everybody from University of Michigan

Nanodegree — such as Udacity's Become an Android Developer from Google
To earn a micro-credential, you must pay for it and receive a passing grade in each of its courses.[13]

By the end of 2019, there were 800+ micro-credentials available, with almost half of them being Coursera's Specializations.[14]
Some platforms also offer full MOOC-based degrees that nowadays gain more significant interest than micro-credentials. For instance, Coursera has a partnership with the University of Illinois to provide a fully online MBA degree program.

Udacity, on the other hand, has joined with Georgia Tech to offer a Master of Science in Computer Science online degree program.

The only drawback is that the costs of those degrees are based on American Universities standards, which could be shocking to European students who have their higher education mostly for free. [15]
The advantages of MOOCs
MOOCs are available to anybody who has the time (and/or) some money to spend. They are convenient, user friendly, and some of them are free of charge. You can choose for yourself a provider that suits you the best, and find plenty of comparisons of each platform online. [16]

You can start a course whenever you want and finish it when you have time without too much stress. The choice of subjects is broad, and the variety is impressive.
There is no exam fever or pressure as it is entirely up to the user if they want to finish the course or not. The best professors very often teach the courses from top universities, and you can feast on their knowledge without going out of your flat, even without leaving your couch and comfy pyjamas.

MOOCs give benefits not only to students but also to teachers who learn how to develop their teaching skills, or to working professionals who can improve their skills and even gain a better salary. The flexibility of MOOCs gives the opportunity of learning to people who cannot attend full-term universities such as parents or business owners.[17]

In addition, older non-students are using MOOCs to prepare for an eventual return to school. But there is always a "but".
The dark side
Even though MOOCs might look like a fantastic opportunity for people who cannot attend university for different reasons, the studies say that most MOOCs consumers are "working, college-educated males in developed countries".[18]

Why is it like that?

Mainly to advance their current job (these students are called "career builders") or to satisfy curiosity (who are called "education seekers").[19],[20]

So still there is a sense of privilege in MOOC learning. To learn, you need a good internet connection and know the language of a teacher. Also, lately, you need a few (or few hundred) dollars to spend which is a luxury in developing countries, which is why the growth in MOOC participation is concentrated almost entirely in the world's most wealthy countries. [21]
So, I learnt about MOOCs, I made myself an account on Coursera, signed-up for a course about MS Excel and even finished it. And then… I never took any more courses on Coursera, and my account has been dormant since. Is it just me who lacks motivation and consistency? Unfortunately, no.
A significant number of registrants leave soon after enrolment. Out of the course-takers, 52% never take the classes or try for up to 2 weeks and abandon it. Many students never return after their first year, and MOOCs' low completion rates have not improved over 6 years. [22]
MOOCs appeared strong at the beginning. But after a rise between 2012-2015, they were facing regular enrolment decline every year. There was even a running joke around academics "Remember the MOOCs?" [23],[24]
Currently, just 10% of MOOC registrants complete their courses. Mostly because there are no live instructors, or strict beginning or end, and it's up to student's motivation and ambition to finish the course.
COVID-19 to the rescue
And as you might have already guessed – the COVID-19 pandemic and quarantine led to a significant increase of interest in MOOCs as well.[25] We were stuck at home anyway, some of us on "mandatory vacation".

Why not do something productive, for once?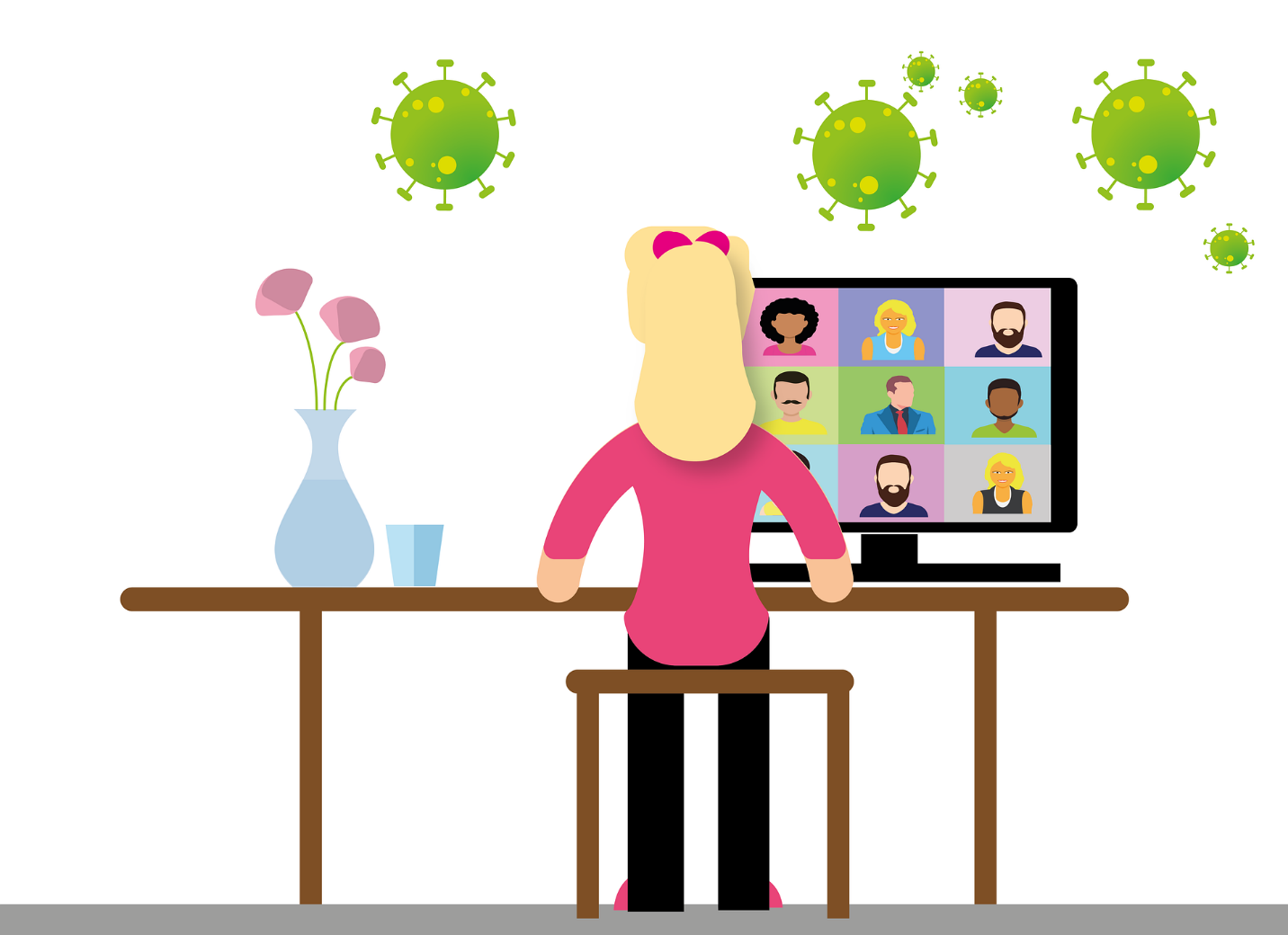 (Photo courtesy Pixabay.com)
The biggest MOOCs platforms realized that they have a chance to resurface and they started offering courses and certificates for free [26].

You can find an updated list of free courses on Class Central. [27] Even LinkedIn, thanks to Microsoft, offers 250+ free learning hours now, in English, French, Spanish, and German.[28]

After completion, you can easily add the certificate to your LinkedIn profile. They also made an all-in-one website listing their courses[29] . The pandemic made Coursera enrolment grow 640% between March and April.[30]
Even WHO prepared more than 100 courses about COVID-19, public health, and safety. [31]
I, personally, staying in quarantine, learnt how to build a website, and what is SEO (it's search engine optimization)— all of it for free, thanks to Skillshare.
The best time to start learning
Even though MOOCs are not perfect, the latest research demonstrates that among learners who complete courses, MOOCs do show the real impact: 72% of survey respondents reported career benefits and 61% reported educational benefits. [32]

From my perspective, you can learn a lot as long as you will find a place that fulfils your needs. Don't take a massive course if you know you have a short attention span and always look before you leap.

Choose a shorter one at the beginning to try it. Then you can enjoy your time, and maybe you will gain a new skill that will change your career or life.
All these, thanks to the pandemic!
References

[1] http://desarrolloweb.dlsi.ua.es/moocs/what-is-a-mooc
[2] https://www.futurelearn.com/info/blog/what-is-a-mooc-futurelearn
[3] https://www.distancelearningportal.com/articles/401/moocs-what-exactly-are-they.html
[4] https://www.infoprolearning.com/blog/advantages-and-disadvantages-of-moocs-massive-open-online-courses-for-learning/
[5] https://www.nytimes.com/2011/08/16/science/16stanford.html?_r=0
[6] https://www.infoprolearning.com/blog/advantages-and-disadvantages-of-moocs-massive-open-online-courses-for-learning/
[7] https://www.nature.com/articles/s41539-019-0046-0

[8] https://slate.com/technology/2013/11/udacity-coursera-should-celebrities-teach-moocs.html
[9] https://www.classcentral.com/
[10] https://www.classcentral.com/report/mooc-stats-2019/
[11] https://www.classcentral.com/collection/top-free-online-courses
[12] https://www.onlinecoursereport.com/the-50-most-popular-moocs-of-all-time/
[13] https://www.classcentral.com/help/moocs/
[14] https://www.classcentral.com/report/list-of-mooc-based-microcredentials/#nanodegree
[15] https://www.accreditedschoolsonline.org/resources/moocs/
[16] https://www.panelplace.com/blogs/how-to-choose-mooc-sites
[17] https://www.accreditedschoolsonline.org/resources/moocs/
[18] https://onlinelibrary.wiley.com/doi/pdf/10.1002/ir.20153
[19] https://www.voced.edu.au/content/ngv%3A59592
[20] https://hbr.org/2015/09/whos-benefiting-from-moocs-and-why
[21] https://science.sciencemag.org/content/363/6423/130
[22] https://er.educause.edu/articles/2014/12/mooc-completion-and-retention-in-the-context-of-student-intent
[23] https://www.nytimes.com/2020/05/26/technology/moocs-online-learning.html
[24] https://sandwalk.blogspot.com/2020/01/remember-moocs.html
[25] https://www.classcentral.com/report/moocwatch-23-moocs-back-in-the-spotlight/
[26] https://www.classcentral.com/report/coursera-free-certificate-covid-19/
[27] https://www.classcentral.com/report/free-online-learning-coronavirus/
[28] https://www.classcentral.com/report/linkedin-learning-free-learning-paths/
[29] https://opportunity.linkedin.com/en-us
[30] https://theconversation.com/massive-online-open-courses-see-exponential-growth-during-covid-19-pandemic-141859
[31] https://openwho.org/
[32] https://hbr.org/2015/09/whos-benefiting-from-moocs-and-why
Written by Agnieszka Szmitkowska
Reviewed and edited by Somsuvro Basu & Markus Dettenhofer
Publication date: 21.08.2020